Izidor Ruckel concludes 2-month tour of Romania
Izidor Ruckel returned to the United States in early May after a two-month stay in Romania, his birth country. Due to major press coverage around the country and across Europe throughout his trip, citizens began approaching Ruckel in every city he toured, including Bucharest, Cluj, Brasov, and Oreada.
Several national and international media outlets interviewed Ruckel, including national television broadcasters ProTV and Sirile TVR. Major newspapers also featured Ruckel: Ziare Live, Stiri.com, and Buna Ziua Brasov. In addition, he participated in a lengthy interview by Radio Transilvania with two other international adoptees that was aired across Europe.
"Everywhere I went, people recognized me," Ruckel said. "Many stopped me on the spot to talk to me, saying that my story had inspired them to re-think about how they treat orphans and disabled people. I was so surprised and moved by this new generations' openness to my message. Times have changed in Romania."
Ruckel held three speaking engagements during his tour. In Brasov, Faget, and Cluj he spoke through a translator to hundreds of people, raising awareness of orphan issues and inspiring local communities to help the needy in their midst. Ruckel shared his story of what life was like as an institutionalized, disabled orphan at the end of Communist rule in the 1990s. He emphasized the God-given value of each person, regardless of disability, and the right of every child to a family. Because adoption radically changed his life, Ruckel said his heart's deepest desire is to see the same opportunity available for other orphans.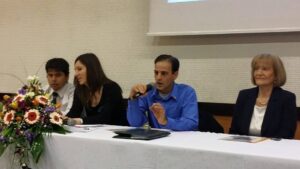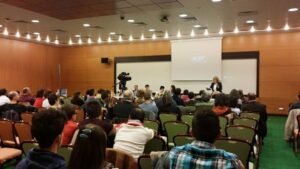 Alex Kuch, Veronica Clark and Izidor Ruckel speak in Branov. Engagement hosted by Azota Popescu (right) of the Catharsis Association.
"I'm an adamant supporter of reopening Romania's doors to international adoption, particularly for special needs children who cannot find a new family within Romania," Ruckel said. "There are many people who would welcome a disabled child, if the government would change the current laws to make it possible. All children deserve the opportunity for a family, be they from Romania or from another country or from the moon."
Ruckel succeeded in meeting with several politicians regarding the current condition of the country's state-run social welfare system. Parliamentarian Florica Chereches is well known across Romania for her advocacy on behalf of orphans. She met with Ruckel on several occasions and invited guests to hear him speak.
Chereches also introduced Ruckel to Calin Puia, director of the County Child Protection Department for Bihor County. Puia met with Ruckel in Oradea, the county's capital city, and patiently answered Ruckel's questions regarding the systems in place today for displaced children. Ruckel also toured an orphanage in the city and reported a vast contrast in conditions compared to when he lived in an institution 25 years ago.
"I was impressed with the orphanage conditions," Ruckel said. "The children were not zombies and they were actually attending school. The conditions were clean and each child had his own bed and a dresser – much different than when we slept four-to-a-bed on urine-soaked mattresses. The staff is also training them how to cook and clean."
In July, Ruckel will release a full report on his trip. The report will present Ruckel's findings on the current state of Romania's orphans, the improvements he hopes to see in the future, and what organizations are currently doing good work in-country. He will also reveal how the journey affected him personally, including visiting his old orphanage and meeting more of his biological family for the first time ever. We'll keep you posted!
Sign up for updates on Izidor Ruckel HERE.