Speaking
Orphan Advocacy in the United States
Izidor is a sought after speaker, utilizing his life story to educate and encourage audiences to participate in orphan care. His work on behalf of those still living in institutions has taken him to dozens of states across America, from California to Washington, D.C. and Texas to Wisconsin.
In the fall of 2014, Izidor toured several colleges as the featured speaker for the Both Ends Burning's Campus Tour. While on tour, he presented the film documentary STUCK and led group discussions to enlist the next generation of leaders to help find solutions for the world's orphans.
Izidor is available to speak at events for churches and organizations promoting orphan care. As your keynote speaker, Izidor will tailor his talk to your event's goals. Typical topics for Izidor include the following:
My orphan friends and I – Personal stories of what orphans endure
Transformation – How I found true healing
A voice for the voiceless – Reaching for "the least of these"
Why me? – Why God allows us to go through tough times
To request Izidor to speak at your event, click here: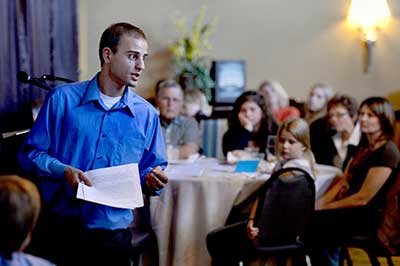 Orphan Advocacy in Romania
In the spring of 2015, Izidor toured Romania for two months. Hoping to improve living conditions for the country's orphans, he met with government officials and community leaders, as well as hosted several speaking engagements. Izidor and his adoptive mom, Marlys Ruckel, made news across Europe when they appeared on Pro-TV's well-known, live talk show "La Maruta" for several days.
"Everywhere I went, people recognized me," Ruckel said. "Many stopped me on the spot to talk to me, saying that my story had inspired them to re-think about how they treat orphans and disabled people. I was so surprised and moved by this new generations' openness to my message. Times have changed in Romania."
Today, Izidor continues to advocate for Romania's orphans through encouraging the country's local officials and communities to reach out to the vulnerable in their own backyards.
Izidor's passion for giving back to those in whose shoes he once walked in is extraordinary, and his capacity for forgiveness even more extraordinary. His story is captivating, capturing the attention of all who hear him speak... changing hearts, lives and perspectives.
Jeni Cooper
Director, Angels in Need
Izidor Ruckel's tangled journey from darkness to light, from broken to whole, can only be understood through the lens of a loving God who sought him out, ransomed him from a pit of unimaginable terror, and refused to let him go. Izidor has taught me there is no place on earth that God's love cannot reach.
Sarah Padbury
Adoptive Parent
(Domestic, international, foster care,
and adult adoptions)
I've visited and worked in orphanages all over the world, but nothing compares to the horrific institutions I saw in Romania in the 1990's. Izidor Ruckel spent 11 years in one of those tragic places. Many adoptees would have remained bitter and broken because of it. Instead, Izidor chose to forgive and views his challenging past in Romania as a gift to be used for good. He is an inspiration to us all. If Izidor chooses not to live as a victim, how can we?
Dr. Jane Aronson
CEO, Worldwide Orphans
Adoption Medicine Specialist