Los Angeles Times: Former Romanian orphan in the U.S. helps…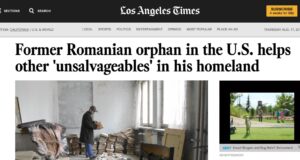 Los Angeles Times reporter John M. Glionna traveled to Colorado in 2015 to interview Izidor Ruckel. The meeting reunited Glionna and Ruckel for the first time since 1991. Glionna's first story covered Ruckel's transition into his new adoptive family after arriving in America at age eleven.
What is Ruckel's life like now, almost 25 years later?
Click here to read Glionna's latest story from 2015.