Izidor's first 10 months in Romania – and counting!
In April 2016, as Izidor was packing up to head back to the United States after a one-month visit to Romania, he received a one-year job offer from Love Light Romania (LLR). Izidor decided to stay and work with the nonprofit whose mission it is to serve orphans and the poor around Medias. Ten months later, his stay has made a difference in the lives of many children in the community – and he's decided to stay longer.
Mentor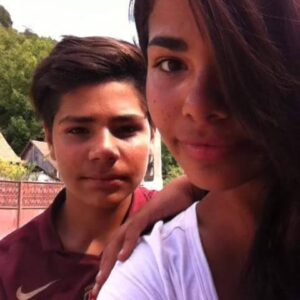 Izidor's main responsibility at LLR is to mentor two live-in teenagers, Persida (15) and Cristi (14). Izidor has spent hundreds of hours with the siblings hoping to teach them life and relationship skills, as well taking them into town for fun getaways. "They've taught me a thing or two, as well," Izidor reported.
"Izidor has provided Persida and Cristi with a lot of encouragement and support," said Jo Jewett, Director and Co-Founder of Love Light Romania. "It was important they rely on a person they trust, who they can look to for advice and guidance. He's not just their mentor, they look at him as an older brother."
Summer Camp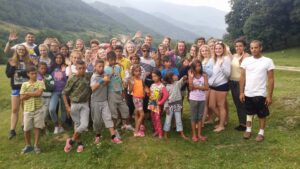 Izidor assisted LLR with running several rounds of summer camp for children from the surrounding villages. In all, over 100 children attended camp for a week at time, enjoying activities like living in tents, rock climbing, soccer, archery, and wheel barrel races. Most of the children had never been away from their families before and especially appreciated the evening ritual of music around a large campfire.
"Within three days I was already seeing big changes in the children," Izidor said. "They changed from angry kids to having fun and laughing; from stealing to being honest; from being rude to respectful and helpful. In the end, they didn't want to leave because they had so much fun and made new friends."
La Maruta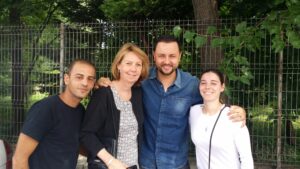 In addition to working with LLR, Izidor continued facilitating adoptee reunions with the help of ProTV's La Maruta show. His nine-day run on the live talk show in 2015 with his birth mom and adoptive mom launched him into becoming a household name in Romania. The relationship he built with the production team led to a part-time position with the network. In all, Izidor helped eight adoptees meet their birth families on the show. He also privately facilitated two other reunions.
"Although I enjoyed helping families reunite, I won't be continuing to offer this service," Izidor said. "I hope the best for everyone involved, especially that it brings peace for the adoptees to know their roots."
Advocating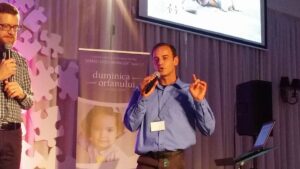 Over the past ten months, Izidor has also continued his advocacy work for those still entrapped in state institutions. In October, he was a featured speaker at the Romania Without Orphans Gala held in Bucharest. The event offered traumatized parenting training by bringing together several international adoption specialists with Romanians who had adopted, or wanted to adopt.
Izidor was also invited to a government meeting in December for the Ministry of Social Protection for Families. He participated in talks about how to stop orphans from "aging out" into the streets through changing the system to include transitional housing with job and life skills training.
"We have to be willing to work with the government if we really want to make lasting change. I'm careful not to focus on blame, but on solutions."
A Special Guest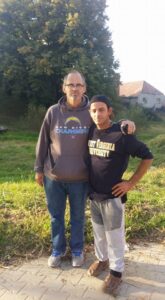 In September, Izidor's dad, Danny Ruckel, visited from the United States. It was his first visit to Romania.
"Having my dad here was amazing. I never thought I'd have the opportunity to share with him my history of Romania," Izidor said. "My dad is an excellent guitar player and he even took the time to teach Cristi some guitar lessons."
Future Plans
"I recently made the choice to stay another year in Romania," Izidor said. "I have high hopes that I can continue making a difference at Love Light Romania and will also keep advocating to change the social welfare system here. I do believe in working together with government officials and plan to develop ongoing relationships with like-minded parliament leaders and local advocates."
Izidor will remain in Romania until Spring 2018.
Final Note: Supporting Love Light Romania
Over the last several months, many of Izidor's international supporters have mailed goods and supplies to Love Light Romania to support its mission.He is very grateful for their aid. But due to high shipping costs, and the fact that the Romanian mail system is not dependable, Izidor requests sponsors consider making a financial donation instead so that supplies can be bought locally. To support Love Light Romania, click here.